When the weather turns warm, it's time to turn our attention to sprucing up that outdoor space. 'Tis the season of lingering evenings on the porch, pool parties with neighborhood friends, and making gooey s'mores by the fire pit. There is no better time than now to create your dream outdoor oasis with the help of Jabaras in Wichita, KS. Plus, outdoor rugs from Jabaras Rugs.Shop are up to 50% off with Free Shipping*! Get started today in creating an outdoor space that you never want to leave.
When creating fabulous outdoor spaces, here are a few simple tips to keep in mind.
Define the Space
Are you creating an al fresco dining space, outdoor family room, or both? First, define the area around your outdoor space by creating clear pathways and walkways. You can use a different height of grass, pavers, stone, and more. Next, use flooring materials to define the conversational area(s) you're aiming to create. Porcelain Tile is a great choice for an outdoor eating area or outdoor kitchen. Outdoor tile can also be ideal on a pool deck.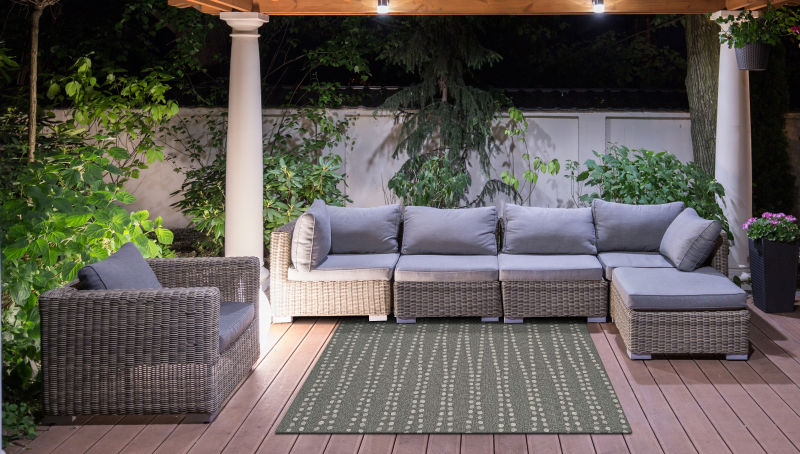 Another perfect way to define the area you're aiming to create is by adding an outdoor area rug. Crafted of weather-friendly fiber, outdoor rugs add style, comfort, functionality, and personality to your outdoor oasis. When selecting the size of your outdoor area rug, Jabaras recommends that if you're putting a dining table on the rug, you need about 24 inches of space around the table so guests can comfortably pull out their dining chairs. If selecting a rug for an outdoor seating area, at least allow enough space for the front legs of your sofa and chairs to be on the rug.
Select Weatherproof Furnishings
In recent years, outdoor furniture has come a long way. Many outdoor furniture pieces are beautiful enough to even use on the inside of your home as well. Consider a comfortable yet fashionable sectional for your outdoor space with coordinating coffee table and side tables like this one from Crate and Barrel. We also love this teak outdoor farmhouse table from Frontgate for family-style meals. Mix fun mid-century chairs in your outdoor space for an electric vibe.
Whatever you select, be sure to carefully research materials and fibers, and be sure to properly clean and store your outdoor furniture during off season for maximum longevity.
Finishing Touches
Love is in the details. Your yard is landscaped, tile deck is installed, outdoor furniture is in place, and your beautiful area rug is on its way. Now, what? Put the finishing touches on your outdoor oasis with suspended garden lights, bright outdoor accent pillows, and colorful pots of plants. Small details like citronella candles, oversized lanterns, and other accessories help your outdoor oasis feel comfortable and cozy. It's the finishing touches that make long summer nights outside even more special.
Are you ready to create your dream outdoor oasis? The team at <Retailer Name> is ready to help you select the perfect outdoor tile, area rug, or other flooring selection to complete your vision. Order your outdoor area rug today from our Rug Shop to take advantage of up to 50% off and free shipping*. Contact us to schedule a free in-home estimate or stop by our location for a complimentary design consultation. You'll be enjoying a cold drink on your gorgeous new patio in no time!
---