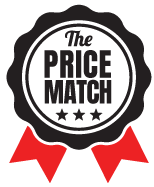 We have the best prices in flooring
We guarantee our prices to be competitive and assure you that you will not find a total lower price at any other floor covering retailer in the area. If you find a lower price on an identical item, we will match that price. If you are getting a total bid, with identical products and labor, we will match that bid as well. Just present us with a physical estimate for the same floor or same floor and labor, within 30 days from the competitor. Price Match applies to running line, first quality materials only. Price Match Guarantee applies only to local retail store pricing. Labor only, online retailers and wholesalers are excluded.
Our softest flooring solution, available in a vast range of color and texture options to cover your floors from wall to wall in cushioned comfort! Carpet is popular for bedrooms and living rooms, and often comes with built-in stain and moisture resistance.
Beautiful, versatile and long-lasting hardwood has it's own unique, natural charm. Its unmatched durability and customization options along with modern innovation has led to products that can be installed just about anywhere!
Get the beauty of hardwood, anywhere in your home! Laminate realistically mimics the look and feel of real hardwood, with added versatility and resistance to a variety of common wear, tear and other issues. It's also easy to install and perfect for families with kids or pets!
Designed to look and feel just like real hardwood or natural stone tile luxury vinyl can be easily installed in just about any room. You'll also find waterproof luxury products that work well in bathrooms, mudrooms and kitchens.
Durable, beautiful and natural, tile is the perfect choice for kitchens, bathrooms, and outdoor spaces, as well as for decorative walls and accents. Made from a range of natural stone and clay materials, different types of tile each perform differently and serve distinct purposes.
One of the flooring industry's latest innovations is durable, beautiful waterproof flooring. Typically made from vinyl or laminate, these floors install seamlessly to keep out moisture - and they resist a whole slew of other types of wear!
RESIDENTIAL FLOORING PRODUCTS