2018 is here, and with the new year comes new flooring trends! If you're planning a floor renovation project this year, take a look at the most popular flooring choices before you start.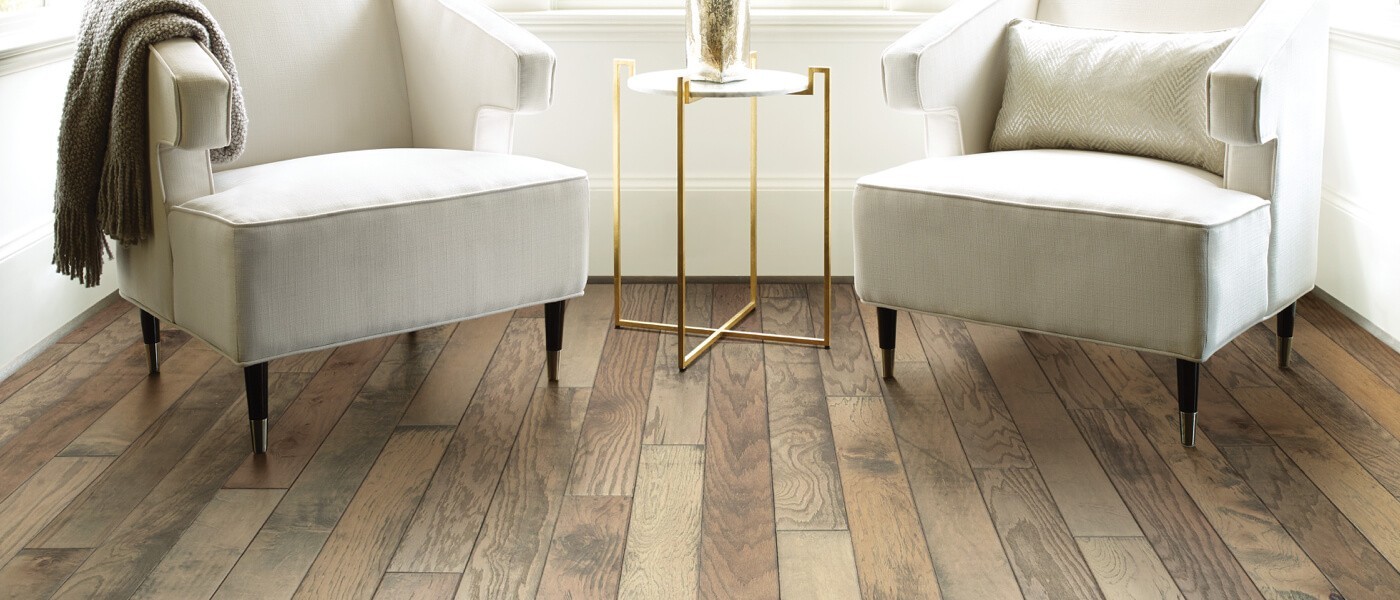 Wood Flooring
Parquet Hardwood – Solid wood pieces are arranged in geometrical patterns to form a parquet wood floor. This floor trend is making a return in 2018 in order to draw attention to the rich, natural wood.

Wide-Plank Wood Flooring- Wood flooring remains popular in 2018, but the trends are pushing toward a wider plank. This flooring will go with virtually any style of home.

Gray Wood Flooring- You'll begin to see this more and more as 2018 moves forward. Gray wood flooring provides a unique, modern look that works well in updated homes.

Bamboo Floors- Bamboo has many of the same qualities as hardwood. This type of flooring is eco-friendly, kind on the budget, water-resistant, durable, and works well in any style of home.

Cork Floors- An eco-friendly option, cork floors provide an interesting look that feels springy underfoot. Although it's quite affordable, durability can be an issue for those with small children or pets.

Distressed Plank Flooring- These wood floors boast a vintage, rustic feel. They're often eco-friendly, reclaimed wood materials—but they can be expensive. If you plan to install the flooring yourself, be sure to let the wood acclimate to the environment first.

Ebony Wood Flooring- Ebony floors are extremely dark in color. This floor trend pairs well with white trim, bright area rugs and plenty of windows.

Hardwood Floors With Varying Widths- Installing boards with varying widths gives your home a fresh, unique look. It's a style that goes back to historic homes when builders used every piece of wood they had.
Carpet Tiles- Combine traditional carpeting and tile together, and you get cozy carpet tiles that are easy enough to install in an afternoon. You can even choose your own pattern, designs, and colors!

Bold Carpet Colors- A vivid carpet color can surely make a statement in your home. Bold carpeting can be a great way to let your personality shine through. If you're unsure about eccentric carpet throughout the whole house, consider installing it in a hallway or bedroom.

Frieze Carpet- Known for its shaggy look, Frieze carpet is casual and comfortable. Not only does it add beauty to your home, but it can also help conceal dirt and crumbs.

Patterned Carpet- Cut-and-loop is a style of patterned carpet that can be geometric or abstract, depending on your tastes. Today, this type of carpet is made with softer fibers and more robust carpet pad options.
Vinyl Flooring
In 2018, textured looks are more popular than ever. High variation texture is on the rise, and you'll see more of these looks for years to come.
Hand Scraped- Today's hand-scraped hardwood flooring is designed to have a vintage look that shows wear and tear but has modern finishes which protect the floor. Expect to see elements such as sanding, denting or scooping the wood to create indentations, and splits or holes.

Wire Brushed- These floors offer minimal texture and maintain a smooth appearance. Wire brushing pulls the soft grain from the growth ring leaving the heartwood exposed to the surface. This helps create a more durable floor that is able to mask scratches and scuffs from everyday use.
Terrazzo Flooring- Terrazzo is a mix of stone chips either encased in resin or embedded in resin. It's a unique style of flooring that can be used as an upgrade from linoleum or vinyl.