New flooring is an investment in the value, performance and beauty of your home. Knowing that, many of our customers want to do everything they can to insure and protect their floors from accidental damage. That's why we created our Total Protection Plan to provide customers with cleaning and stain removal for their carpeting.
We have two distinct plans, each designed for different needs. Talk to one of Jabara's flooring experts today to determine which plan is best for you.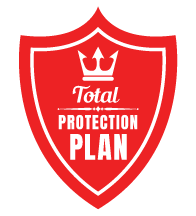 Standard Plan
SEE PRICING BELOW
Stain Removal
Two stain removal service calls over two years (one per year) to cover accidental food or biological stain removal treatments up to a maximum value of $50 each

Customer pays the additional costs over $50 maximum

Stain Removal Satisfaction
$250 toward the replacement of stained Jabara's protected and installed carpet when treatment is unable to remove the stain to your satisfaction

Repairs & Labor
$300 toward the labor to repair Jabara's protected and installed carpets, including re-stretching and re-taping.
Premium Plan
SEE PRICING BELOW
Professional Carpet Cleaning
Two professional hot water cleanings of Jabara's protected and installed carpet

Standard cleaning of normal wear included

Complies with most manufacturer requirements

Stain Removal
Two stain removal service calls over two years (one per year) to cover accidental food or biological stain removal treatments up to a maximum value of $100 each

Customer pays additional costs over $100 maximum

Stain Removal Satisfaction
$500 toward the replacement of stained Jabara's protected and installed carpet when treatment is unable to remove stain to your satisfaction

Labor Requirement
$300 toward the replacement of stained Jabara's protected and installed carpet when treatment is unable to remove the stain to your satisfaction