Top Flooring Trends for 2019
Now that the holiday season has come and gone, Jabaras Carpet Outlet in Wichita, KS is excited to share top flooring trends for 2019 with you. If you're considering purchasing new carpet or flooring for your home in the new year, it's important to understand how flooring trends have evolved in recent years. From vivid on-trend colors, to textured hardwoods, to waterproof resilient, new flooring trends highlight innovation in both aesthetics and performance. To experience new flooring trends in person and select samples for your own home, Jabaras is proud to offer a wide selection of beautiful flooring samples in our showroom.
Carpet Has Never Looked Better
Whether installed wall-to-wall, or cut into a custom-sized rug, carpet is more stylish and beautiful than ever. Large-scale geometric patterns like Diamonds Forever from Shaw Floors are a trend that provide drama to your floors without overpowering the room. Carpet is also now available in bold colors like Defined Beauty in Oasis that make a powerful fashion statement. Grey isn't going anywhere in the new year, and we love Door Country in Pewter for a rich grey tone in a stylish organic pattern. Best of all, all of the carpets highlighted are made to perform.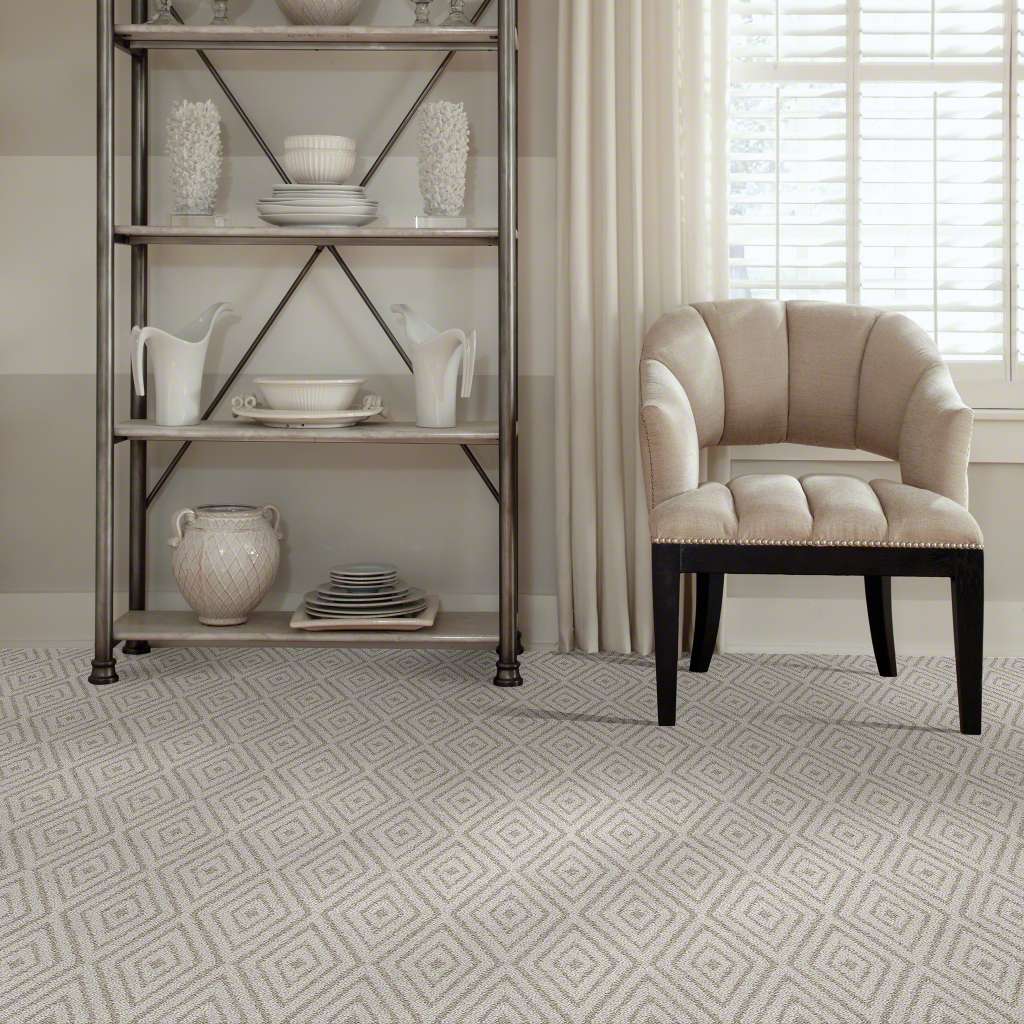 Worldly and Sophisticated Hardwood
Hardwood flooring is a classic choice that withstands the test of time. However, hardwood colorations and finishes are changing to stay ahead of trends in cabinetry and paint. In the coming year, Jabaras expects to see more subtle texture on hardwood floors that accent the natural grain, like Hayden Hickory.  Longer, wider planks with ash gray color tones like Clearwater in Oceanside are trending as well. Here at Jabaras, we love bold black Lexington Avenue Oak in Cabot installed in a herringbone pattern.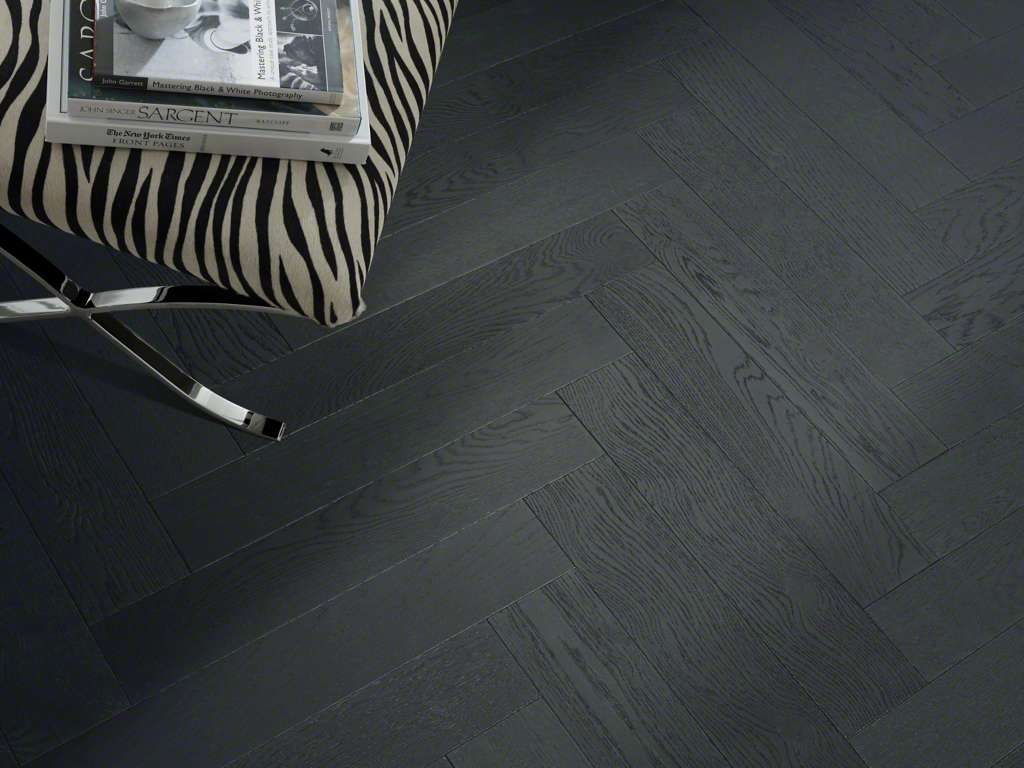 Is that Laminate?
In recent years, laminate designs have come a long way and have captured the attention of the design community. Many laminate styles look so similar to comparable hardwood styles, skilled eyes cannot tell the difference. Cades Cove in Burleigh Taupe is a warm taupe style that features on-trend black and grey striations. We also expect to see more coastal-inspired visuals like Freeport in Wave Crest with an authentic scraped finish and white-washed coloration.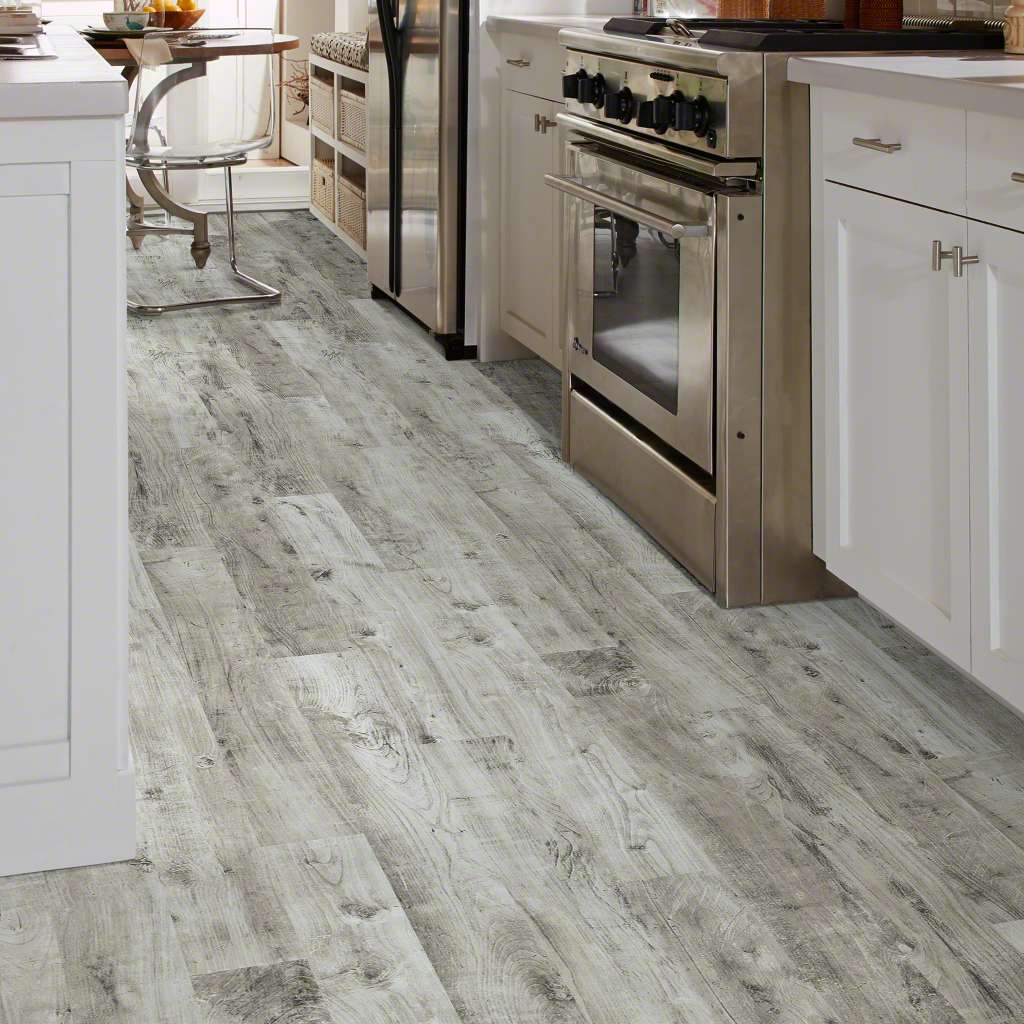 Have Fun with Tile
When it comes to creative tile installations, the sky is the limit! Your dream kitchen, bathroom, laundry room, or mudroom is just a stylish tile installation from Jabaras away. Bold, vibrant tile is the trend for 2019, from blue geometrics like Blue Daze to floral-inspired patterns like Garden Way. Envisioning a more subtle tile selection? Chateau Trapezo offers a stunning alternative to on-trend marble for backsplashes and bathroom accents.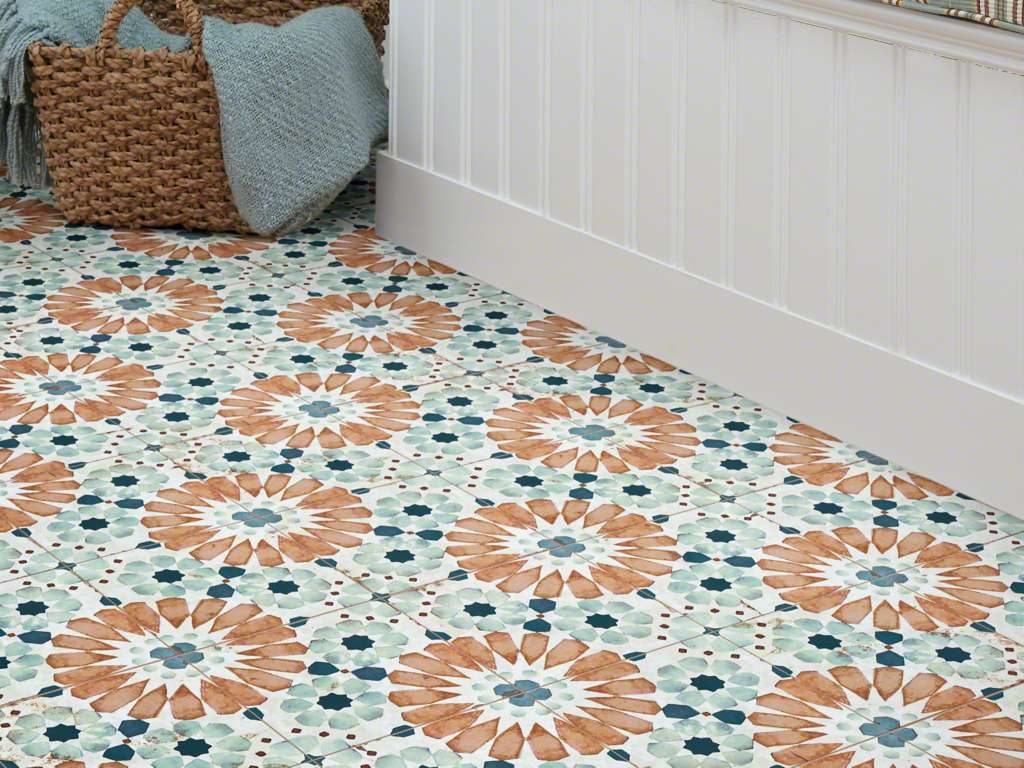 We'd Like for You to Meet Vinyl
The new(er) kid on the block, luxury vinyl flooring is an innovative flooring alternative that is engineered for high style and high performance. Waterproof, pet proof and dimensionally stable, vinyl flooring is easy to maintain—and looks amazing. For 2019, Jabaras is seeing the stained concrete trend like Mineral Mix in Alloy. For a realistic hardwood look with maximum durability, Largo Mix Plus is available in a Pine or Hickory visual.
We're hope you're as excited about the newest flooring trends for 2019 as we are here! What trend do you see looking great in your own home? To schedule a design consultation and talk more about flooring choices for your home, visit our showroom.