Walking to end roller-coaster ride of Type 1 Diabetes
Josh and Sara Jabara of Wichita have been riding the roller coaster of Type 1 diabetes for nearly eight years, since the day their 3-year-old daughter began exhibiting symptoms on a family vacation that led to a diagnosis of the incurable autoimmune disease.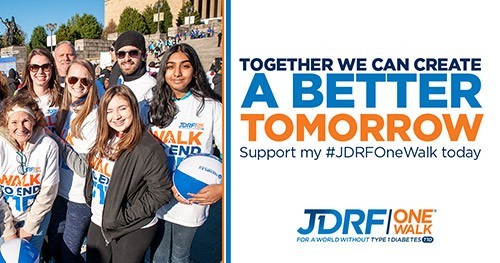 It's been nearly eight years of ups and downs, watching and adjusting, doing for Jenna what her body is unable to do for itself. "Her mother and I, we acted as her pancreas," said Josh. "We were the ones that did all the carb counting, checked on her at 11, 1 and 3 in the morning to see if she needs insulin or something to raise her blood glucose. It's a 24/7 thing. There are no breaks."
T1D develops when insulin-producing beta cells are mistakenly destroyed by the immune system. "Basically, the body attacks itself," Josh said. "Whatever you eat gets turned into glucose, then it gets distributed throughout the body. Without these beta cells, your body basically starves itself while unusable glucose builds up."
The disease is different from the more common Type 2 diabetes, which primarily occurs as a result of obesity and lack of exercise. T1D has nothing to do with diet or lifestyle; there is no prevention or cure. Because the pancreas stops producing insulin, those with T1D must constantly monitor blood sugar levels and inject or infuse insulin through a pump, balancing the insulin doses with eating and activity throughout the day and night. Jenna, now 11, has a continuous glucose monitor that gives constant readings, so she doesn't have to have her finger pricked for manual blood readings 8 10 times a day as she once did.
Meanwhile, an insulin pumpdelivers a calculated stream of insulin through a catheter beneath Jenna's skin. When her glucose levels are off, Jenna and her parents adjust, either through food or insulin. Despite the rigmarole of living with T1D, Jenna is as active as any other 11-year-old. She enjoys rock climbing, and she loves dancing, taking classes up to five nights a week and traveling to competitions. The family also has two other children, Jacob, 8, and Jackson, 2. "This doesn't stop her; she doesn't let it slow her down," Josh said, though every activity is under the watchful eye of parents, teachers and caregivers, since glucose levels in T1D patients can be unpredictable. "Jenna is such a responsible and hardworking kid," Sara said. "We are so proud of her and the way she has grown into helping manage everything. It's not easy by any means, on a physical and emotional level." I
It was while getting ready for the Fourth of July family weekend cookout that the Jabara's noticed worrisome symptoms: extreme thirst, lethargy and frequent urination. They took Jenna to the doctor, and a blood test showed extremely high glucose levels. She was immediately hospitalized and diagnosed with T1D. But they were also sent home with what Josh called "a bag of hope" that included information on JDRF (formerly Juvenile Diabetes Research Foundation). Though there was no local JDRF chapter at the time, the organization returned to Wichita about a year later. The family was immediately drawn to the mission statement: treat, prevent and cure.
Today the family continues to support the JDRF and its mission to find a cure for T1D. The Jabara's will take part in the JDRF One Walk April 14 at Exploration Place. "We're more than happy to just have people show up to the walk, come check us out or come check JDRF out," said Josh, Home Improvement store manager at Jabara's Carpet Outlet. Jabara's has been a sponsor of JDRF One Walk for the past six years. "JDRF was originally started by parents who were wanting to find a cure for their kids, and that's what we want too.