Bringing the Outdoors, In
With the cool winter weather limiting our time outdoors, bringing the outdoors in has never sounded better. In interior design trends, Jabaras Carpet Outlet in Wichita, KS is noticing that bringing the outdoors in makes a beautiful style statement and is also a trend that is emerging in flooring. (And, no, bringing the outdoors is doesn't mean your kiddos tracking mud and leaves through the house.) Whether it's through materials, textures, lighting or color pallet, nature makes a powerful impact on both exterior and interior spaces.

So why bring the outdoors in? In today's crazy busy and fast-paced world, nature evokes a sense of calm and serenity. Nature allows us all to take a deep breath and relax with our families after a hectic day. Studies show that fresh flowers can actually make us feel happier, and house plants reduce carbon dioxide and pollutants in the air. In a USA Today article, writer Andruss explains that exposure to nature benefits our overall mental health and refreshes and restores our sense of wellbeing.

If you're considering bringing the outdoors inside your own home, Jabaras Carpet Outlet has compiled a list of recommendations so that you can get started.

Building Materials
If you're building or remodeling with the goal of bringing the outdoors in, keep this goal in mind when selecting your floor plan. Many homes today are built around a garden or outdoor living space, like this one, or are positioned to face an amazing view of nature. Choose building materials such as a stacked stone fireplace or exposed reclaimed lumber for a sense of bringing the outdoors in.

Plant Life
Incorporating plants within your home is not only on trend, but there are also a myriad of health benefits. Houseplants can decrease our stress levels and elevate our mood. Consider adding succulents to your coffee table, begin a small herb garden in your kitchen, or bring a fig tree home to the family room. Want to go big? Gorgeous living walls or vertical gardens are all the rage. However, here at Jabaras Carpet Outlet, we're just trying to keep our faux Fiddle Leaf fig dusted.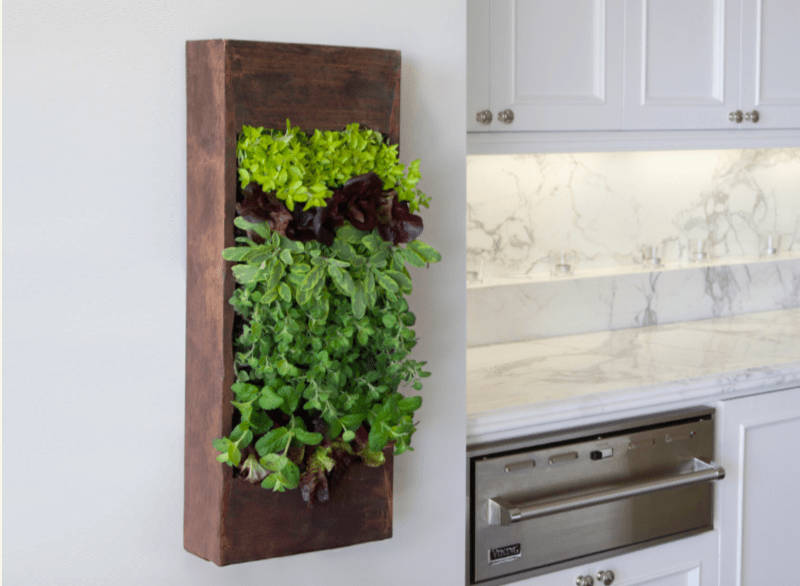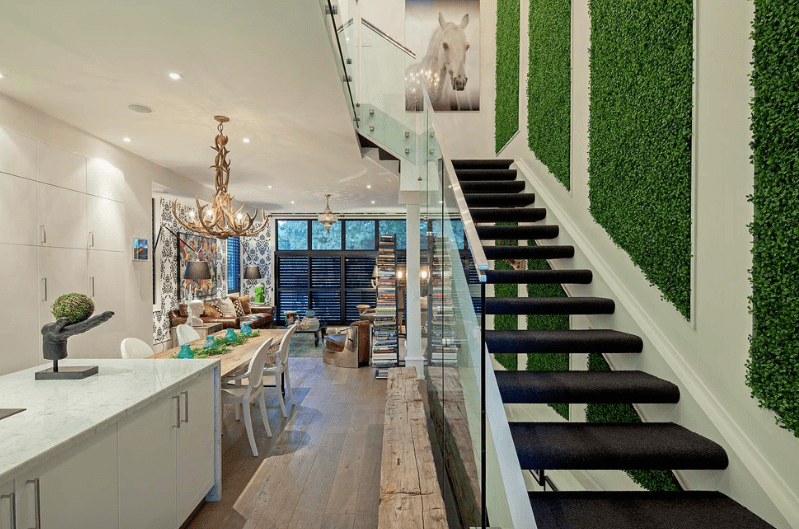 Natural Flooring
Flooring is a perfect way to bring the outside in, especially with natural materials like hardwood flooring. Pebble Hill Hickory in Prairie Dust by Shaw Floors showcases the beauty and drama of the natural wood grain. Organic visuals in carpet, like Alluring Disposition in Slate evokes a feeling of nature with a subtle pattern and calming color palette.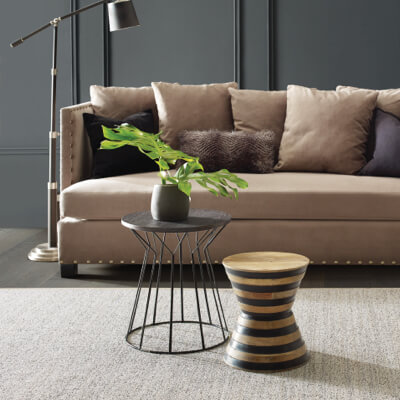 Lighting
Quality lighting can bring the outside in with ease. Whether you remove outdated window coverings to let the natural light flow in, or replace your lightbulbs with eco-friendly options, lighting is sure to add the natural warmth you desire. For a nature-inspired light fixture, we're loving this Basket Weave Bamboo Pendant Lamp from World Market.

Color Palette
Last but not least, paint is an affordable and high impact method to bring the outside in. Whether you select brown-infused earth tones, leafy greens, or sunset golds, paint can provide a powerful backdrop to your outside-inspired décor.

With the majesty of the Kansas outdoor life, we all strive to capture its beauty in our homes. Are you inspired and ready to bring the outside into your own home? Visit us at our store location for your complimentary design consultation to select your nature-inspired flooring. We can't wait to help you bring the outside in your home.